KidsZone I – Elementary LifeGroup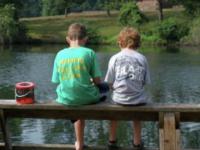 Regular age-appropriate programs and activities are provided to build a spiritual foundation for every child at the earliest possible age. Efforts are made to reach children and youth to lead them and their families to Christ. Our children meet each week for Kidzone during our Sunday Service.
KidsZone is for children ages 3 through the 4th grade.
FROGS CLUB
FULLY RELYING ON GOD
Each Wednesday, our elementary aged children meet at 7 pm for FROGS Club. Children enjoy playing games, crafts, and other activities. As FROGS, children memorize scripture and dive into God's Word each week.. FOTH believes that applying God's Word to your heart is crucial for making good decisions that line up with God's plans. FROGS is for ages 3 through 5th grade.